Voyants Solutions Private Limited (VSPL) is one of India's fastest growing, premier infrastructure consultancy services firms with global footprint. Voyants provides end-to-end, integrated infrastructure solutions across all major sectors viz. transportation, roads, bridges, railways, ports, residential townships, commercial complexes, industrial parks, SEZs, urban infrastructure, smart cities, energy, water & sanitation and waste management.
Voyants provides concept to commissioning services throughout the project life cycle. It takes on every element of infrastructure project ranging from project initiation and feasibility, planning, environment and sustainability management, privatization and project advisory, detailed design, tendering, project management and construction supervision, commissioning and finally to operation and maintenance.

The creative energies of our multi-disciplinary team of more than 1000 professionals help transform great ideas into realities. Our technical prowess and global footprint enable us to provide engineering solutions under myriad codes and specifications applicable across the world coupled with state-of-the-art analytical tools and market sensitive strategic thinking. Our multifarious teams have helped multilateral, public and private sector Clients in their endeavor to build infrastructure for tomorrow. Our teams have delivered some of the most innovative, challenging and fast- track projects across 200 cities in 28 countries in three continents viz. Asia, Africa and Europe.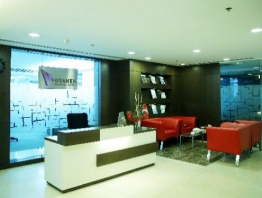 Voyants is an ISO 9001: 2015 certified firm and NABET accredited EIA consultant in twelve sectors. Voyants is registered with a number of international & national funding agencies and empaneled with more than 100 government agencies globally. Our Clients include Fortune 500 companies, blue-chip corporations, multilateral funding institutions, prestigious government agencies and key lending institutions.
We take pride in listening to our Clients, understand their needs and deliver effective and efficient solutions. We have nurtured many successful partnerships to evolve best suited infrastructure models. Consequently, most of our Clients give us repeat assignments. We differentiate our services on the basis of continuous Client engagement, timely delivery, cost efficient
plans / designs and the quality of our service delivery.