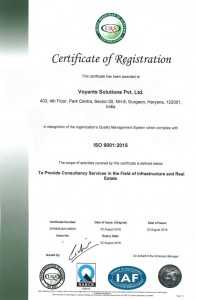 ISO 9001:2015 certification
Voyants' Quality Management System complies with ISO 9001:2015 specifications. The company has been certified to provide consultancy services in the field of infrastructure and real estate.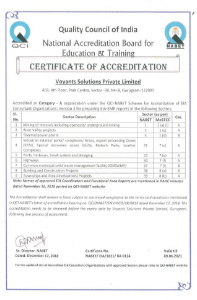 NABET/EIA.1821/RA 0114 : NABET Accredited EIA consultant
Quality Council of India, The National Accreditation Board for Education & Training, has accorded accreditation to "Voyants Solutions Private Limited" under Accreditation of EIA Consultant Organizations (Version 3) as a Category "A" Consultant for Mining of Minerals, River Valley Projects, Thermal Power Plants, Industrial estates/Complexes/Areas, EPZs, SEZs, Biotech Parks, Leather complexes, Ports, Harbours, Break waters and Dredging, Highways, Common Municipal Solid Waste Management Facility, Building and Construction projects and Township and Area Development projects which is valid till 9th June 2021.